Streamza Terms Of Service
Streamza provides online storage, streaming services and operates download clients "in a cloud" on behalf of it's users.
You are solely responsible for respecting copyrights and content lisences.
Please do not abuse Streamza — we work really hard to make it awesome!
These terms of service (the "Terms") govern your access to and use of Streamza ("we" or "our") websites and services (the "Services").
You may use the Services only in compliance with these Terms. You may use the Services only if you have the power to form a contract with Streamza and are not barred under any applicable laws from doing so. The Services may continue to change over time as we refine and add more features. We may stop, suspend, or modify the Services at any time without prior notice to you. We may also remove any content from our Services at our discretion.
Streamza is owned and operated by: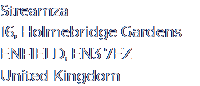 Your Content
By using our Services you provide us with information, files, and folders that you submit to Streamza (together, "your content"). You retain full ownership to your content. We don't claim any ownership to any of it. These Terms do not grant us any rights to your content or intellectual property except for the limited rights that are needed to run the Services, as explained below. Terms do not alter any copyright or license relation between you and your content.
We need your permission to do things you ask us to do with your content, for example, hosting your files. This includes generating image thumbnails or document previews. It also includes design choices we make to technically administer our Services, for example, how we redundantly backup data to keep it safe. You give us the permissions we need to do those things solely to provide the Services. This permission also extends to trusted third parties we work with to provide the Services.
To be clear, aside from the rare exceptions we identify in our Privacy Policy, no matter how the Services change, we won't share your content with others, including law enforcement, for any purpose unless you direct us to. Please see the Privacy Policy for more details about aggregating and using data.
You are solely responsible for your conduct, the content of your files and folders, and your communications with others while using the Services. For example, it's your responsibility to ensure that you have the rights or permission needed to comply with these Terms.
You acknowledge that Streamza has no obligation to monitor any information on the Services. We are not responsible for the accuracy, completeness, appropriateness, or legality of files, user posts, or any other information you may be able to access using the Services.
Sharing Content
Streamza is not a content sharing plattform. You are not allowed to share your account or in other ways make your files accesible to third parties. Streamza has no responsibility for that activity.
Your Responsibilities
Files and other content may be protected by intellectual property rights of others. Please do not submit download jobs unless you have the right to do so. You, not Streamza, will be fully responsible and liable for what you use while using the platform. You must not submit malicious content to the Service.
You, and not Streamza, are responsible for maintaining and protecting all of your content. Streamza will not be liable for any loss or corruption of your content, or for any costs or expenses associated with backing up or restoring any of your content.
If your contact information, or other information related to your account, changes, you must notify us promptly and keep your information current. The Services are not intended for use by you if you are under 13 years of age. By agreeing to these Terms, you are representing to us that you are over 13.
Account Security
You are responsible for safeguarding the password that you use to access the Services and you agree not to disclose your password to any third party. You are responsible for any activity using your account, whether or not you authorized that activity. You should immediately notify Streamza of any unauthorized use of your account.
Streamza Property and Feedback
These terms do not grant you any right, title, or interest in the Services, Software, or the content in the Services. While we appreciate it when users send us feedback, please be aware that we may use any feedback, comments, or suggestions you send us or post in our forums without any obligation to you. The Software and other technology we use to provide the Services are protected by copyright, trademark, and other laws. These Terms do not grant you any rights to use the Streamza trademarks, logos, domain names, or other brand features.
Acceptable Use Policy
You agree not to misuse the Streamza services. For example, you must not, and must not attempt to, use the services to do the following things:
intentionally or unintentionally violate any applicable local, state, national or international law;
collect, store or publish available personal data about others without their acceptance;
advertise to (or soliciting of) Users to buy or sell any product or services through direct communication provided by the Services without their prior consent; this includes sending spam, junk messages or chain letters to other Users via the Private Messages feature or any live connection
any automated use of the Services that is not officially available; this includes reading, posting or changing any Content;
interfere with any part of the Services, exploiting possible bugs or security holes;
mislead Users by imitating any part of the Services for collecting personal data or other unlawful purpose;
use an identity (account, username, password) of another User or disclosing your own username or password to any third party or permitting any third party to access your account;
transfer your profile to any third party;
cheat the referral system or subscription sytem to gain benefits
Paid Subscriptions
Streamza offers paid accounts.
Streamza charges you on a monthly basis according to membership selected by you.
If any fee is not paid in a timely manner, or we are unable to process your transaction, Streamza reserves the right to revoke access to your Streamza account and your content. If the account is not upgraded again, we reserve the right to delete some or all of your content.
We may change the fees and charges in effect, or add new fees and charges from time to time, but we will give you advance notice of these changes by email. It is your responsibility to keep your contact information and payment information current and updated.
Limits And Account Sharing
Stremza memberships are designed for individual use. We reserve the right to introduce temporary limits on your account in cases of excess usage or accountsharing.
There is a limit 10 active transfers at the same time. Finished transfers will stay available to download and stream for 30 days after the transfer completed.
There is no limit on number of deletes, downloads, views. There is no bandwidth cap either.
Cancelling Your Account
Your Streamza account will continue in effect unless and until you cancel your acount or we terminate it. You must cancel your Account before it renews in order to avoid billing of the next month's or fees to your credit card.
You may cancel your Account at anytime. The account will stay active until the remainder of your paid plan. If you wish to cancel your Account you may do so via your Account page. Should you elect to cancel your Account, there will be no further rebills.
By signing up for a Streamza Account and providing Streamza with your payment account information, you hereby agree to these payment terms and conditions.
Copyright
Streamza respects others' intellectual property and asks that you do too. We will respond to notices of alleged copyright infringement if they comply with the law and are properly provided to us. Such notices should be reported using our DMCA Process. We reserve the right to delete or disable content alleged to be infringing and to terminate repeat infringers. Our designated agent for notice of alleged copyright infringement on the Services is:
Copyright Agent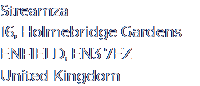 [email protected]
Other Content
The Services may contain links to third-party websites or resources. Streamza does not endorse and is not responsible or liable for their availability, accuracy, the related content, products, or services. You are solely responsible for your use of any such websites or resources.
Termination
You can stop using our Services any time. We reserve the right to suspend or end the Services at any time, with or without cause, and with or without notice. For example, we may suspend or terminate your use if you are not complying with these Terms, or use the Services in any way that would cause us legal liability or disrupt others' use of the Services. If we suspend or terminate your use, we will try to let you know in advance and help you retrieve data, though there may be some cases (for example, repeatedly or flagrantly violating these Terms, a court order, or danger to other users) where we may suspend immediately.
Disclaimers
The Services are provided "AS IS". You are using Services at your own risk. Although we work hard to keep the Services online and working, we take no responsibility for possible errors, damages, lost content, malfunction.
Except in those jurisdictions which do not allow the exclusion of certain warranties, we expressly disclaim all warranties of any kind and shall not be liable for any damages or losses whether directly or indirectly related to your use of Services or its content.
This limitation of liability shall apply to the maximum extent permitted by law.
Legal disputes
You agree to indemnify Streamza, its owners, employees, and users from any liability relating to your use of the Services.